Achieving Digital Transformation through Outsourcing
Forward-thinking companies know that to survive or thrive, they need to go digital. In many cases, digital transformation isn't just a strategy, it is a necessity.
But oftentimes, the way to growth of your business is hampered by ineffective implementations. Companies need to realize that Digital transformation isn't about technology alone. You need also people, mindset and good cultural fit to make it work as well.
In a research done by Genpact, companies lose about $400 billion a year on misguided digital transformation efforts. Not all organization have all these in alignment, so some take a smart shortcut by outsourcing their needed parts.
Accenture reports that 87% of companies contract 3rd-party solution providers to help accelerate their digital transformation. Combined with internal resources and the expertise that comes with outsourced providers, companies will be able to access unlimited pools of talents and/or skill sets to give them comprehensive and cost-effective valuable services.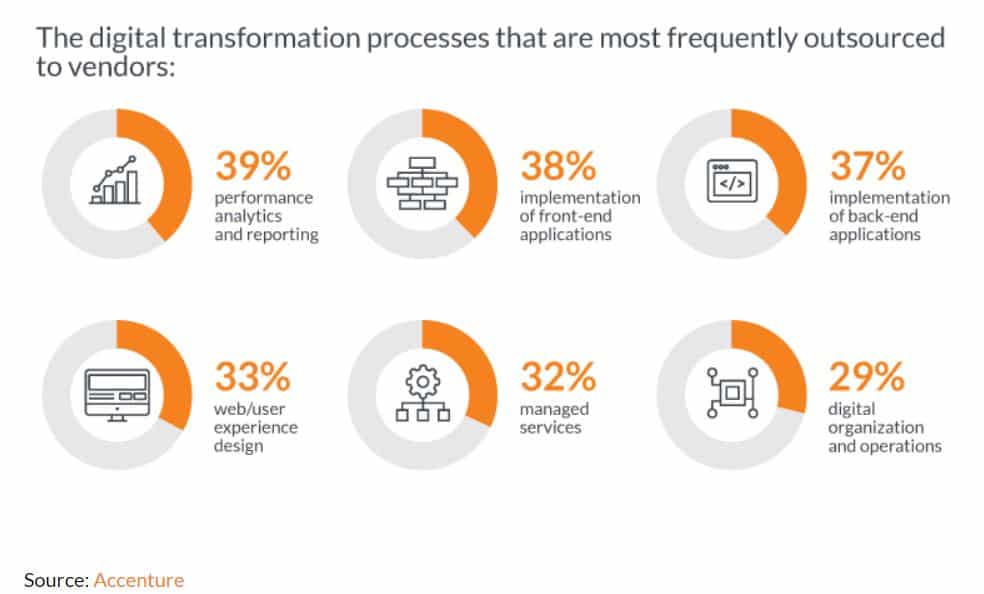 Four Compelling Benefits of Outsourcing:
Manpower:
Hiring new employees often requires expensive recruiting and training. Companies have to invest in the education of their new hires so they can have the right skills for the business. Notwithstanding, it is hard to find the right skill sets and these candidates are very few and when companies do find them, they come at a price. According to a survey, in the UK alone, technology companies are expecting to face a talent shortage over the next few months. The country is seeing more than half a million job vacancies in digital technology that will cost about $85 million.
In the US, talent shortage is also seen as a growing problem. It is predicted that by 2020, there will be 1.4 million job openings for computer specialists according to a report by Gartner. By "going digital", companies will have to outsource their process to fill in the gap of the required immense manpower.
It would also require a wide-array of expertise in areas critical to digital transformation, from Big Data, to enterprise mobility to RPA. Outsourcing can significantly improve the scalability and faster implementation provided the unlimited access to a rich pool of world-class digital experts.
Mitigating Risks:
While digital transformation is a challenging process, outsourcing providers know what risks to expect and knows how to avoid or mitigate them. They understand the business so well and know what steps to take to achieve success and when to take them.
Outsourcing the process not only saves time and money but reduces industry-specific risks that may arise or avoid complications and improve every step of the way. It also enables companies to take advantage of high-end software and equipment without having to shell out large capital investment. Skilled outsourcing providers also already have the best security practices and digital privacy in place to protect their clients from different kinds of cybercrime.
Champion Customer Experience:
Customers are the lifeblood of any kinds of businesses. Providing the best experience guarantees customer retention and inevitably increases sales. Skilled outsourcing companies understand their customers and can tailor the best experience for them and know how companies can best serve them. In the age of data and technological evolution, skilled outsourcing providers can share insights in order to provide predictable, standard processes, backed by innovative technology to help to continually improve customer experience.
Scalability and Cost-Effective Strategy:
Outsourcing providers gives the ability to control costs by scaling the size of your digital transformation team up and down according to business demand. You will also be able to tailor your service consumption according to your needs and only pay for what you use and seamlessly scale when market status changes.
By contracting a third-party solutions provider, you will be able to hire manpower in a low cost country and tapping in a high quality skill set at a lower price point. Companies can also eliminate, if not reduce, overhead costs on all non-core functions and can create massive savings with faster process execution.
The process of selecting the best outsource partner should also be something on the list that needs to be looked into. Many companies likely go into a sole source approach; however they will usually pay higher fees but lower service levels. The process takes longer and it creates a sense of urgency.
Technological evolution suggests a whole new paradigm for every organization, and improving processes and providing better experience is no longer an option. Outsourcing gives access to cutting-edge expertise and innovative concepts that can guide every organization's strategy for success. Emerging technologies change rapidly that most companies lack the technical expertise to execute the best solutions for the organization. An innovative outsourcing solution can provide disruptive opportunities and market advantage for companies that are serious about transforming their organization.